Welcome to the latest installment in our yearly Fiction's Fearless Females series! Michael of My Comic Relief kicked us off with his post on Harley Quinn and Poison Ivy of the Harley Quinn animated and comic book series. Kalie of Just Dread-full followed with Ellie and Sandie from the film "Last Night in Soho." Look out for Jeff of The Imperial Talker's post in just a few days, and Nancy's post next week!
In last year's post, I teased the heroine I had in mind for this year's post. Our friendship theme for this year fit perfectly for who I had in mind: Black Canary. This was a prime opportunity to kill two birds with one stone, if you'll forgive the pun.
Quick note: I'll be talking strictly about the comics, as the movie with the same title shares… the title only. It not only doesn't focus on Black Canary, but didn't even include all canonical characters that make this team so special.
There are (to date) two iterations of the Black Canary character: Dinah Drake and her daughter, Dinah Laurel Lance, who we're going to focus on. The character you think of when you hear "Black Canary" is most likely the second iteration. Though both are blonde bombshells and martial arts experts sporting tight leather bodysuits and fishnets, Baby Dinah's signature superpower is her Canary Cry: a supersonic scream that she can control and direct. But as we'll see, that's not her only power…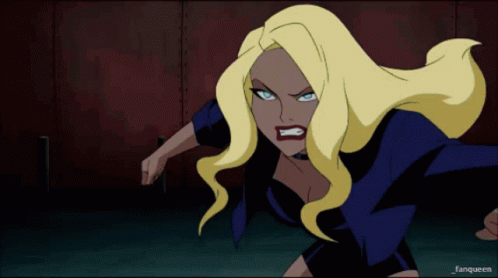 Baby Dinah grew up surrounded by heroes. Her mother, the first Black Canary, was part of the Golden Age Justice League of America. Naturally, Dinah wanted to be a crimefighter, just like her mom and the heroes who were family to her. Mama Canary, not wishing a vigilante's dangerous life upon her only daughter, forbade it. In a classic #FFF move, Dinah went against her mother's wishes to follow her dreams. She trained with Ted Grant (Wildcat) to become a martial arts expert and took up the mantle of Black Canary. She even starts operating out of a floral shop in Gotham, just like Mom did. She goes on to become a founding member of the Justice League International and joins the Justice League, where she meets Green Arrow (Oliver Queen), marking the beginning of their romantic relationship. After the death of her mother and a bad breakup with Oliver, Dinah finds herself adrift and unsure of what to do with her life. (Source)
Enter Oracle (the hero Barbara Gordon, or Batgirl 1, became after her paralysis due to Joker's shooting, as outlined in my 2020 FFF post), seeking the perfect operative for her covert operations. This was the case in Birds of Prey #1 (the cover of which is the featured image for this post!), written by Chuck Dixon in 1995, published in 1996. The rest is history.
Now, up until this point, Black Canary had very rarely had her own book, in an "always the bridesmaid, never the bride" sort of situation. That changed with Birds. Though she shares the limelight with Oracle to start, Huntress in 2003 when Gail Simone took over the helm, and an ever-expanding roster in later years… Dinah is very much the heart and soul of the book. She might share the title, but she is the embodiment of everything the Birds come to represent over the course of the run.
Of course, the biggest themes of the book are that of friendship and found family. Barbara, in selecting Dinah as her first covert operative, gave Dinah a second chance to find her purpose as a heroine. Conflict in the earlier issues stems in part from Barbara and Dinah's clashing personalities and work methods. Barbara as Oracle is methodical, meticulous, and organized. Dinah's Canary is a little more loose and a go-with-the-flow type of gal. They each cause the other no end of grief, until they learn to trust one another. But once they do, Barbara and Dinah, along with Helena Bertinelli as Huntress later, grow so much closer than mere coworkers.
In fact, it's Dinah who suggests that Helena becomes part of the team. Barbara is resistant because she doesn't approve of Helena's more violent methods of crimefighting. But when Dinah welcomes Helena with open arms… what is she to do but give her a chance? And though Barbara and Helena clash the same way she and Dinah did in the beginning, and even through Helena's brief departure, they learn to trust each other. With that burgeoning trust comes a deep respect for each other. They become partners, friends, sisters. They become a team in so many other ways than just a covert operations unit. And none of it would have happened without Dinah.
Dinah, as a character, is idealistic and humanitarian. She is (with few exceptions) willing to give everyone, even the most heinous villains, the benefit of the doubt and a chance at redemption, rehabilitation, and in Helena's case, friendship. Helena had been an outcast of the Batfamily due to her violent tendencies, but Dinah does what they didn't: give her a chance. Conflict within the team further arises from this clash of ideals. Barbara's faith in others has been damaged due to the trauma she suffered. Helena naturally distrusts and is quite cynical of everyone. Dinah leads by example by being open, accepting, and willing to give everyone a fair shot.
For example, there's an arc where Dinah and Sandra Wu-San (Lady Shiva) trade places for a year. The two women share a tentative bond, as they were trained by the same martial arts sensei. However, again, the two women are very different: Sandra is the world's deadliest assassin, while Dinah has a code against killing. Shiva offers to further Canary's training, but Dinah refuses, fearing her morality will slip. They arrive at this compromise instead. Dinah goes to train for a year as Sandra did, and Sandra joins the Birds for a year, calling herself the Jade Canary. Dinah hopes her time with the Birds allows Sandra to warm up to new experiences and helping people rather than killing for hire. The rest of the team might (and certainly did) call her crazy – but Dinah believed what she was doing was right: giving Sandra a chance to grow and change. (Sources 1 and 2)
Dinah Laurel Lance, as Black Canary, might be one of three top billers on the Birds of Prey book – but she is the heart and soul of the story. Barbara Gordon as Oracle gave her the chance to reinvent herself as a hero, and Dinah went above and beyond the call. She showed herself, her coworkers-turned-sisters, and us the readers, the power of friendship. As corny as it sounds, Dinah's greatest power is her loving acceptance of others and her willingness to give everyone the benefit of the doubt. Though she is the loudest – literally and figuratively – of the bunch, her power comes from the quiet, understated kindness that she gives to everyone.
If you've been following the blog for a while, you likely know that Birds of Prey is my favorite comic book series of all time. I've reviewed the entire series in trade paperback for this blog and am currently re-reading the newly published omnibus editions with my husband. It's been a joy to take a deeper dive into the friendship this series is famous for with #FictionsFearlessFemales this year. Look out for the rest of this year's series!
❤
Kathleen