After some recent shaky and uneven Star Wars movies, The Mandalorian has reaffirmed my love for this franchise! In addition to the strong hero's journey storyline, introducing the new character of Baby Yoda was a stroke of genius. I had put off watching this series, as I'm mostly a fan of the movies and have only watched a few episodes of The Clone Wars and none of Star Wars Rebels. Plus, I didn't want to buck up money for a new channel. But then I started to hear about the big reveal after episode one, and started seeing memes for Baby Yoda and I had to watch the show for myself.
Warning- Spoilers Ahead!
The Mandalorian
Set five years after the Galactic Empire was defeated in Return of The Jedi, the Star Wars universe is in disarray. We are introduced to a new bounty hunter who looks like Boba Fett, but is a Mandalorian, from a warrior society that adheres to tenets of their faith and has their own unique integrity in regards to being bounty hunters. He accepts a bounty to search for a 50-year-old creature on a desert planet, where he is aided by a vapor farmer and bounty-droid IG-11. When he and the droid find their target they are shocked to find this adorable Yoda-like creature! I'm in love…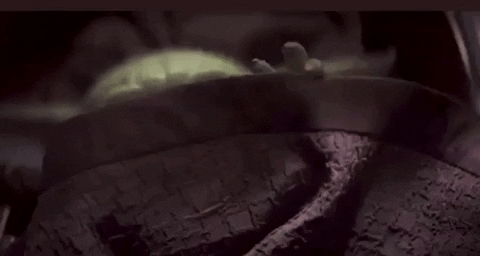 The Child
The Mandalorian (name unknown as of yet) fights off others just to discover the sneaky Jawas have dismantled his ship. Kuiil, the kindly farmer, helps him negotiate with the Jawas in getting his parts back that entails him fighting a huge Mudhorn. Right when things look like the Mandalorian will be defeated, Baby Yoda uses the Force to levitate the beast enabling the Mandalorian to kill it. So this begs the question- is this species born with the Force power or are they taught like we have seen other Jedi's taught? He's only a toddler and non-verbal, so how did he become so powerful?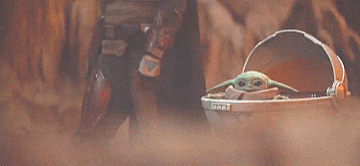 The Sin
Baby Yoda is turned in for the bounty to a nefarious trader and scientist, but the Mandalorian inquires about the creature, which is atypical as bounty hunters are expected to turn in their prey with no questions asked. He is given a large payment of Besker steel which he takes to an enclave of his fellow warriors and we learn more about his society. That they seem to be honorable goes in the face of what bounty hunters do, and luckily he feels guilty and goes back to retrieve Baby Yoda. Guess what- it's not easy getting him back.
Sanctuary
Trying to hide on the sparsely populated planet Sorgan, the Mandalorian meets Cara Dune (love her!) a kick-ass former Rebel shock trooper-turned-mercenary. Their fight for dominance ends in the cutest ever shot of Baby Yoda sipping bone broth. Squeee!  These two warriors end up helping a group of villagers who are being terrorized by raiders, and for a moment the Mandolorian feels as if he could rest and maybe even find love with a hot widowed villager. But when another bounty hunter comes looking for Baby Yoda he knows he and the baby need to leave. The Gunslinger
After a space dogfight, the Mandalorian lands on Tatooine for repairs. While there the mechanic Peli Motto takes on a mothering role for Baby Yoda while the Mandalorian deals with other bounty hunters. Needing money he agrees to help a young bounty hunter who needs to nab a target to get his guild card. Needless to say, there are several double-crosses and it doesn't fare well for a few of them involved in the fight.
The Prisoner
Still needing money the Mandalorian agrees to help a former friend of his whom he used to work with. His ship is used by a motley group of mercenaries who want to rescue one of the group's brothers who is being kept on a prison ship. But everyone is out for themselves and there is betrayal after betrayal from these nasty criminals. There is true suspense when this group seems to get the better of the Mandalorian and Baby Yoda is in danger from an evil droid. But never fear, this duo outsmarts them all!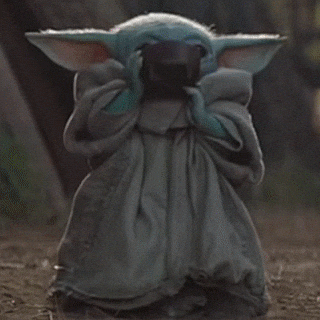 The Reckoning
The Mandalorian is contacted by the bounty hunter guild leader Greef Karga with an improbable request that supposedly will clear his name, but we all know its a set-up, so I'm kinda pissed when the Mandalorian goes along with it. He does recruit Cara and Kuiill to help him, but in doing so puts them in danger. Not surprisingly, Karga had plans to double-cross him from the start but has a change of heart when Baby Yoda saves him from dying. Moff Gideon turns up with a fleet of troopers and the group is pinned down. What will happen to the Baby?!?!
Redemption
Reprogrammed droid IG-11 redeems himself in saving Baby Yoda- because there always needs to be a good droid in every Star Wars story. He further helps by healing the Mandalorian when he seems to have a fatal wound, and we briefly see his face for the first time and learn his name is Din Djarin, who as an orphan was taken in by the Mandalorians and trained to be a warrior. Sacrifices are made, but most of the group is able to escape from Moff Gideon, setting the Mandalorian and Baby Yoda up for further adventures in season two.
I really enjoyed this series, and despite a few errant distractions, I thought this new series was beyond excellent. It definitely had a Lone Wolf and Cub vibe, as a hardened warrior needs to care for an adorable child and through their interactions, the elder character is redeemed and changed for the better. I'm glad to be so excited about Star Wars again, as the last few movies have been disappointing. I will now eagerly anticipate the next season- so in the meantime, may the Force be with you, readers!
-Nancy