I'm freaking out again! Let's check in and see how my reading and blogging year is going:
Best book you read in 2018 so far
Chosen by my book club, I picked up this book uncertain if I would connect with it. But it grabbed me immediately, and brought up incredibly strong feelings. The compelling audio narration made me reflect on my own troubled childhood, and gave me much food for thought. This family drama set in Alaska in the 1970's was filled with very real characters,  and this beautifully told story of survival (both physical and emotional) has stayed with me. Read my full review on Goodreads.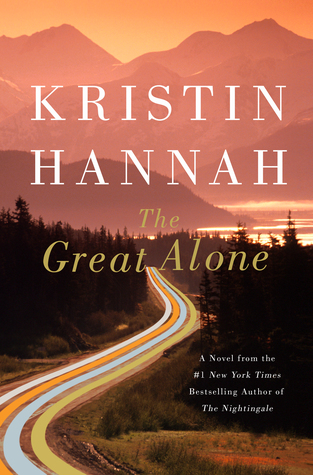 Best sequel you've read so far 
In the first volume A Well Regulated Militia, Brian Wood first gives us a lengthy portrait of the fictional character Seth Abbott and his journey from farm boy to one of the well respected leaders of the Green Mountain Boys. Then we are given shorter non-linear vignettes of other loyalists and patriots and their contributions to the war. This second historical fiction graphic novel follows suit. In These Free and Independent States, we revisit Vermont to find that Seth's son John is a boat-making savant. Spanning the years from 1786 to 1816, John comes to age as the new nation faces several threats and a new Navy is commissioned
New release you haven't read yet, but want to
I ordered this YA book for my teen department, and it is a summer reading choice for the local high school that my library serves. I have an audio edition on hold and I look forward to listening to this fantasy novel that so many people seem to be raving about.
Most anticipated release for the second half of the year
I look forward to every Walking Dead volume and both the mystery-thriller Lucas Davenport and Virgil Flowers books by John Sandford.
Biggest disappointment
A big fan of Andy Weir's first book The Martian, I eagerly looked forward to his next book and was pleased to find a heroine in his second novel. Imagine my dismay when my opinion of Artemis  plummeted chapter by chapter. I was hate reading it at the end.
Biggest surprise
Author Michelle McNamara was nearing completion of this true-crime novel when she unexpectedly died. Her husband and two co-writers were able to finish it, and soon after publication with the resulting renewed attention to the crime, the case was solved. It was a bittersweet surprise that McNamara's book helped bring the killer to justice. Read my full review on Goodreads.
Favourite new author (Debut or new to you)
M.A. Bennett wrote a twisty psychological thriller for teens that I found very appealing. Her debut novel was a strong start, so I'm willing to check out further work from her. Read my full review on Goodreads.
Newest fictional crush
I've been devouring graphic novels written by Brian Wood- does that count as a crush?
Newest favourite character
Enna, Sven's traditional wife, from the Viking saga Northlanders by Brain Wood. In the first volume I hated Sven but loved Enna. She truly redeemed his character.
Book that made you happy
I love Star Wars! I love short stories! Together this anthology was a win-win for me. From A Certain Point Of View is a must read for all Star Wars fans. It strengthened and filled in gaps in the narrative and this new canon was a treat from beginning to end.
Book that made you sad
What Happened is an apt title, for truly, what happened in the 2016 election? In this book Hillary Rodham Clinton reveals what transpired behind the scenes in her election bid to be president. Spanning many years of her life, but concentrating mostly on the two years preceding the election, she shares her thoughts and experiences of what went on. She reflects on what went wrong, she owns up to her mistakes, and she gives the reader a fuller picture of who she is. I cried several times while I listened to the audio while I mourned for a future that did not happen. Read my full review on Goodreads.
Favourite book to film adaptation you saw this year 
Ready Player One was a solid adaptation of the book, but it didn't knock my socks off. It's The Hate U Give that is coming out later this year that I think will end of being my favourite film adaptation. It's first trailer looks fabulous!
Favourite review you have written this year 
Kathleen and I did a fun blog series about who is the best cinematic Chris with bloggers Michael of My Comic Relief and Kalie of Just Dread-full. My choice of Chris Pine was obviously the best, but the whole experience of writing for this series was enjoyable!
Most beautiful book you've bought so far this year (or received)
Above The Timberline by Gregory Manchess is a unique book, that isn't quite a graphic novel, instead it is a highly illustrated book, a so-called "painted novel". Very reminiscent of the Dinotopia book series (minus the dinosaurs but add polar bears) by James Gurney, this large sized book has 240 pages of lush paintings that transport you to another time and place.The artwork is exquisite. He vividly creates a believable tundra landscape, and paints his characters, animals and interior backgrounds with precision.
What books do you need to read by the end of the year? 
I am a member of NetGalley and try to keep my book queue to a minimum so my ratio stays high. Right now the only book I have to get to is Other People by Joff Winterhart.
Half way through the year and I'm on schedule for my Goodreads challenge of 100 books, as I'm at 54 with a few books almost done this week. So far, so good. Bring on the last half of 2018!
-Nancy