"A historical epic of America's founding" is very accurate in describing this exceptionally good graphic novel with it's window into the Revolutionary War era based in the NE corner of our new nation in the late 1700's.
Divided into six chapters, author Brian Wood first gives us a lengthy portrait of the fictional character Seth Abbott and his journey from farm boy to one of the well respected leaders of the Green Mountain Boys. Then we are given shorter non-linear vignettes of other loyalists and patriots and their contributions to the war.
A Well-Regulated Militia
We first meet Seth in 1768 as a boy with a gruff father in the New Hampshire (later to become Vermont) wilderness, eking out a homestead.  English soldiers in the region are hated by the settlers, who are there under the New Hampshire grants.  Skipping ahead to 1775, seventeen year old Seth marries teen-aged Mercy after her father is forced off his land by the redcoats. The young couple establish their own household, but local Ethan Allen easily convinces him to join his militia regiment. At first fighting for their region's independence, he then is willing to fight for the entire colonies' independence. He ends up being away from his wife for seven years, and while certainly in danger during battles, Seth views his time with the militia as a grand adventure with his best friend Ezekiel, a fellow soldier. In 1783 Seth finally comes home to Mercy discovering a son, as he had been unaware his wife was pregnant when he left.
This narrative was a fascinating look into an average farmer's life and the threats they faced from the British and the local Loyalists. The battles that Seth participated in and the living conditions of the soldiers were shown in detail, and you could feel the backbreaking labor and fear they lived with. It also showed a nuanced view of the women left behind, as Mercy suffered just as much while being forced to fend for herself in an unforgiving wilderness.
Goodwife, Follower, Patriot, Republican
Ever hear of the iconic folklore story of Molly Pitcher who stepped into battle to keep the canon shooting when her husband was shot? This story focuses on fictional Sarah Hull who in 1777 was the Battle of Saratoga's "Molly Pitcher". In later years her dying husband makes a plea for the government to give her a soldier's pension for the work she provided. How her effort is disregarded by the representatives ties in with how sometimes women of today are also treated with indifference for their invaluable contributions.
Liberty's Daughter
Silence Bright, a young woman of mixed race, is caught printing and distributing leaflets in Boston that criticize the British in 1768. Thrown into Newgate Prison she is unbowed and the awesome quotes that I shall take to heart- "beware the bookish woman" and "hold fast" are used as she defiantly refuses to submit.
Occupation
In 1775 we are given a brief glimpse of Seth Abbott again in NYC as he holed up in an attic with free black Clayton Freeman. Seth can not understand why Clayton is a Loyalist, and fighting for a corrupt regime for he tries to convince Clayton that he should be fighting for the freedom of the colonies. What he doesn't understand is that "freedom" will not come for all, and that many blacks made the hard choice of fighting for the Crown that promised them freedom and passage away from the colonies. This vignette made me think of our current president, especially with the quote "…how were the lies of King George (Trump) at all appealing? Was there something we were missing?"
Stone Hoof
A young Shawnee brave, Stone Hoof, helps soldiers build Fort Stalwart in the Ohio River Valley in 1750 and befriends Will Henderson. As his tribe are migrants, he is in and out of the region over the years until 1757 when his tribe attacks the fort, as they have aligned with the French who are fighting the British for this territory.  As both he and Henderson survive the battle, they meet for one last time, and each try to understand why the other believes what they do.
Bloody Backs
In 1769 a young man in a London is given a choice- go to prison or head to the colonies as a British soldier. He clings to his idealism and loyalty to the Crown as he miserably slogs  through battle after battle. He meets an ignoble end by a Green Mountain Boy at the Battle of Kings Mountain in 1780, never having achieved a rank higher than a lowly private, and for what- glory?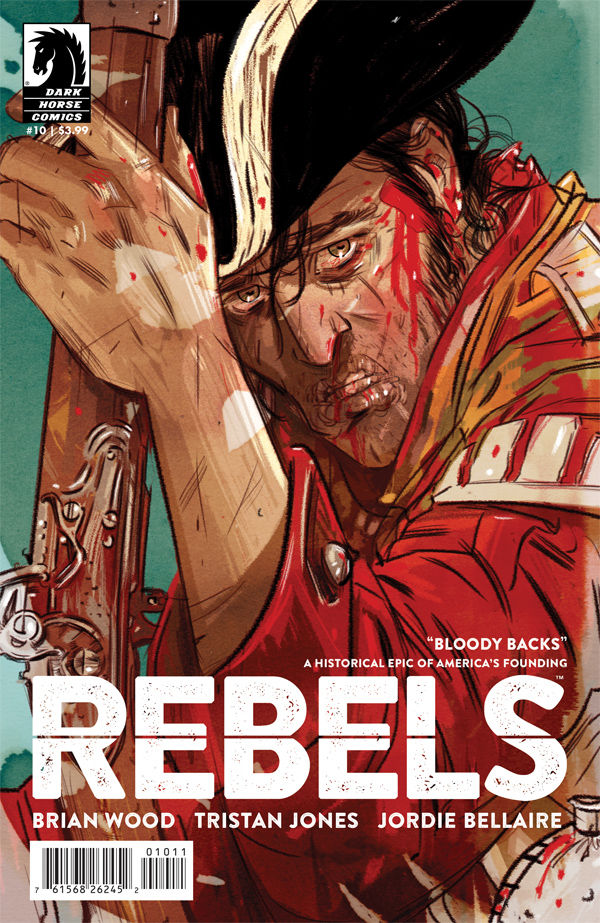 The artwork throughout all the stories is superb. Several artists contributed to the six stories, and all convey an authentic feel to this era and region. The grittiness of wilderness living and the gore of war are shown in a realistic manner, with coloring that is evocative and helps convey the story even more effectively. I want to give a special shout out to artist Tula Lotay, who created each chapter's cover art. Each page she creates is a beautiful homage to the coming story. In addition the extras at the end give some insight to the making of the book with some great essays by the author and some of the artists.
With this book, plus his outstanding Briggs Land,  Wood has vaulted onto the list of my top ten favorite authors of graphic novels! I will absolutely be checking out Wood's Viking saga Northlanders and will pick up all future work in this series.
-Nancy